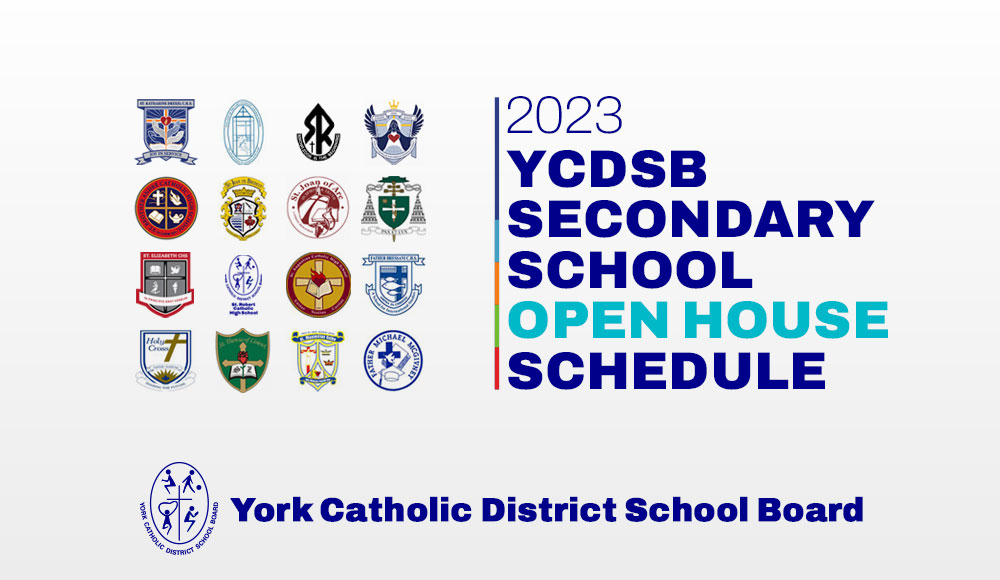 This fall, the York Catholic District School Board will host a series of in-person high school open houses for parents and graduating elementary school students starting secondary school next September. All Grade 8 students and their parents who reside in York Region, as well as Grade 6-8 students and their parents who reside in the towns of Georgina and Whitchurch-Stouffville, are encouraged to review the list of high school open houses and attend the open house for their local Catholic high school and its regular program, as well as any others with regional programs of interest.
The open houses will highlight important key aspects of each school, including administration, programs, graduation requirements, uniforms, school structure, student opportunities and more. Information about the registration process, including registration dates, deadlines and documents needed to enrol, will also be discussed at the open houses. This information is also available through the Board's Admissions Department. Admission to York Catholic high schools is open to all students residing in York Region, in accordance with the rules governing open access and a student's right to attend.
York Catholic high schools are highly sought after for their academic programs focusing on well-being, equity and inclusion. York Catholic District School Board has the highest English-language graduation rates in the province, and admission is competitive. Our high schools are well-known for their innovative programming, caring staff who help guide students, leadership opportunities, engaging student life and our Board's consistency as one of the top-performing school boards in Ontario.
Parents and students wondering which York Catholic high school serves their local community can enter their residential address into the Board's School Locator at: http://locator.ycdsb.ca/.  Following is a list of all high school open houses.
York Catholic High School Open Houses
Please note:  
A description of regional programs can be found below the following chart. 

All schools have a Specialty High Skills Major (SHSM) program (St. Katharine Drexel's SHSM program will commence with its first grade 11 class in 2025-26)



School
Date / Regional Programs
Cardinal Carter Catholic High School

210 Bloomington Road West, Aurora, ON, L4G 0P9

Wednesday, November 1, 2023 at 6:30 p.m.

Regular Program / IB

Father Bressani Catholic High School

250 Ansley Grove Road, Woodbridge, ON, L4L 3W4

Wednesday, November 29, 2023 at 6:45 p.m.


Regular Program / AP / FI

Father Michael McGivney Catholic Academy

5300 – 14th Avenue, Markham, ON, L3S 3K8

Wednesday, November 8, 2023 at 6:30 p.m.

Regular Program / IB / ESL

Holy Cross Catholic Academy

7501 Martin Grove Road, Woodbridge, ON, L4L 1A5

Thursday, November 30, 2023 at 6:30 p.m.

Regular Program / IB / HPA

Our Lady of the Lake Catholic Academy

185 Glenwoods Avenue, Keswick, ON, L4P 2W6

Open House is for Grade 6 – 8 students

Thursday, November 23, 2023 at 7:00 p.m.

Regular Program / AP / FI

Our Lady Queen of the World Catholic Academy

10475 Bayview Avenue, Richmond Hill, ON, L4C 3P2

Thursday, November 23, 2023 at 6:30 p.m.

Regular Program / AP/ FI / ESL

Sacred Heart Catholic High School

908 Lemar Road, Newmarket, ON, L3Y 6R2

Tuesday, November 21, 2023 at 6:00 p.m.

Regular Program / AP / iRAP / ESL

St. Augustine Catholic High School

2188 Rodick Road, Markham, ON, L6C 1S3

Wednesday, November 22, 2023 at 6:00 p.m.

Regular Program / STREAM

St. Brother Andre Catholic High School

6160 – 16th Avenue East, Markham, ON, L3P 3K8

Thursday, November 23, 2023 at 7:00 p.m.

Regular Program / FI / AP

St. Elizabeth Catholic High School

525 New Westminster Drive, Thornhill, ON, L4J 7X3

Thursday, November 9, 2023 at 7:00 p.m.

Regular Program / RAP / ESL

St. Jean de Brebeuf Catholic High School

2 Davos Road, Woodbridge, ON, L4H 2Y1

Thursday, November 9, 2023 at 7:00 p.m.

Regular Program

St. Joan of Arc Catholic High School

1 St. Joan of Arc Avenue, Maple, ON, L6A 1W9

Wednesday, November 8, 2023 at 7:00 p.m.

Regular Program / AP / ESL

St. Katharine Drexel Catholic High School

  Session held at:
  St. Brendan CES,  751 Hoover Park Drive, Stouffville, Ont., L4A 0Z6

Thursday, November 30, 2023 at 7:00 p.m.


Regular Program / FI

St. Maximilian Kolbe Catholic High School

278 Wellington Street East, Aurora, Ont., L4G 1J5

Tuesday, November 28, 2023 at 6:00 p.m.

Regular Program / AP / FI / HPA

St. Robert Catholic High School 

8101 Leslie Street, Thornhill, ON, L3T 7P4

School enrolment is capped. See school website for details.

Tuesday, November 7, 2023 at 6:30 p.m.

Regular Program / ESL

Tuesday, November 21, 2023 at 6:30 p.m.

IB

St. Theresa of Lisieux Catholic High School 

230 Shaftsbury Avenue, Richmond Hill, ON, L4C 0E8

School enrolment is capped. See school website for details.

Wednesday, November 22, 2023 at 7:00 p.m.

Regular Program / AP 
York Catholic offers seven regional programs and ten Specialist High Skills Major programs as follows:
YCDSB Grade 8 students registering for Grade 9
A school selection form was distributed to parents/guardians on Nov. 1, 2023, with a submission deadline of Dec. 13, 2023